How To Hang Garden Flags All Year Round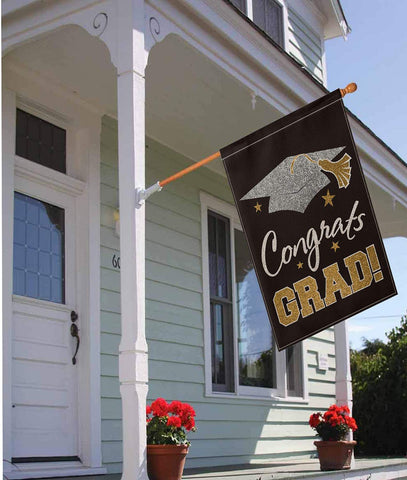 Hanging garden flags is very easy.
First, you have to have something to display it on such as a pole, stand, or bracket. To display on a pole, first, pick your location to display your flag.
If during installation you find the ground too hard, you can soak it with a bucket of water or spray with a garden hose. Position your pole straight horizontally and vertically.
Straight push down on the H stake with the sole of your foot (shoe on of course!) a little way just so it's standing on its own. Step back and see if it looks straight from the front and side angle.
Adjust as needed. When it suits you, push the pole all the way level to the ground.
Now it's time to put the flag on. Along the top of the flag, there is an opening that runs the length of the flag with 2 open ends. Open one end and slide it on the horizontal bar until it's completely on and hanging.
Some flags are one-sided so you'll want to make sure it's on the pole correctly. I'm referring to one-sided flags that have text on them only. You don't want the text reading backward. Since flag sleeves and flagpole bars sometimes come in different sizes, you'll either have to put the flag on backward to make it read correctly when it hangs or you may be able to put it on correctly, to begin with.

Anyway, if the flag text doesn't read correctly, pull the flag off and turn it over and slide on. It will be correct then. If you have a stopper, push this on the bar too after the flag.

Another idea is to have a solar light shining on your flag. Place the solar light in the ground in front of the flag. Your light will have to be in sunlight at least for a day for it to charge. It will have to remain in sunlight in order to illuminate nightly. It won't shine as long during the night if the day has been cloudy.
How To Hang Garden Flags In Winter?
Although spring and summer are probably the most popular seasons to hang flags, don't be disappointed when fall and winter come. All seasons are flag-worthy. Even winter! There are lots of Christmas and winter scene flags.

Some tips for displaying flags in the Winter are--
Don't hang flags during bad weather, particularly during strong winds and freezing rain. Hanging flags during this weather will most likely damage your flag. It could start fraying at the seams or get rips.
Since the ground will be hard or frozen during the winter, a good idea is to position your flag pole(s) in the ground before winter. In late fall put your pole(s) in the ground where they will stay until spring.
Don't hang flags where there might be water dripping off a roof or other object. Your flag and pole could freeze from the dripping water.
You might not want to hang your flag near a road or street because of splashing water from passing cars.