What Flag Poles Go With A Garden Flag?
Another fun and creative part of using garden flags are selecting the pole or holder you'll display them on. You might think there is just the generic flag stand that is put in the ground and the flag slid on the horizontal bar. There are many more types of poles, stands, brackets, and hangers for garden flags.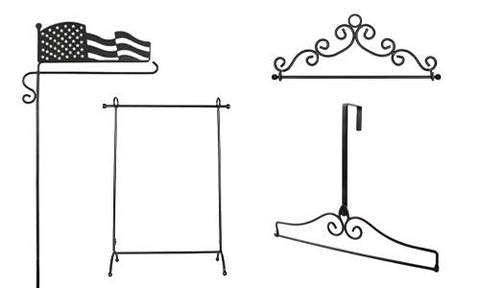 Arbor - These usually measure around 15"w x 42"h. I like arbors because they usually have a decorative top and flags stay secure on them.
Decorative - Flag stands come either plain or with a decorative metal top or decoration on the vertical pole. I personally have a flag pole with a horse on top.
Door hanger - This is a horizontal bar to slide a garden flag on. This bar is connected to a vertical bar that hooks over the top of the door. It can be used on an interior or exterior door.
Post bracket - These are straight horizontal metal bars that can be attached by screws to such places as mailbox posts or porch posts.
Stake base - This is handy to have especially to display garden flag poles on surfaces other than in the ground. The stake base is a round base with 2 slots to stand a garden flag pole in. It's perfect to use for short periods of time such as a wedding or birthday party. It's easily set up and removed.
Wall hangers - These are perfect for displaying a garden flag indoors. It's a horizontal bar hung by a cord connected to both ends.